Nigeria's President Muhammadu Buhari on Friday Nov 2nd, 2018 received his school certificate from the West African Examination Council (WAEC).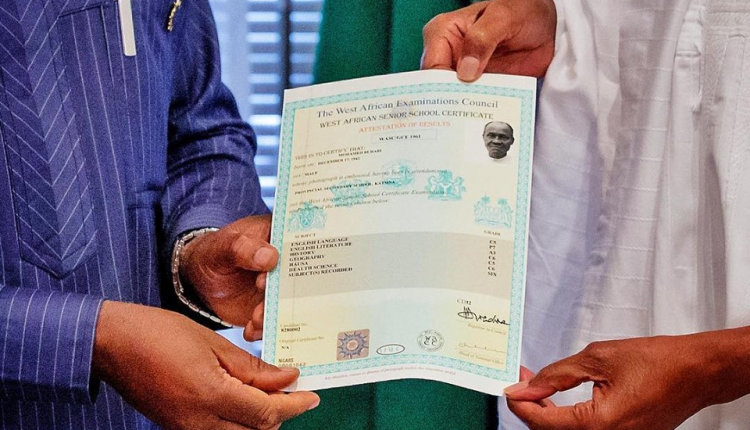 WAEC Registrar, Iyi Uwadiae, presented the document to the President at the State House in Abuja, the nation's capital.
Buhari attended Provincial Secondary School, Katsina (now known as Government College, Katsina) over 50 years ago and subsequently wrote WAEC.
Uwaide also issued an attestation certificate to the Nigerian president.
"WAEC presents attestation certificate and confirmation of school cert result to President Buhari. What will the naysayers say next?," presidential spokesman Femi Adesina tweeted without the photos.
Buy Amazon health and household stuffs on discount through this link
However, shortly after Adesina's tweet, Bashir Ahmad, the Personal Assistant to the President on New Media, took to Twitter to display the photos of the President's certificate.

Ahmad tweeted: The WAEC presents attestation certificate and confirmation of school certificate result to President @MBuhari".
The authenticity of Buhari having obtained the compulsory certificate from the Council has being a subject of debate and discussions in the national and political space.
Buhari in 2014 while campaigning to be Nigeria's president, said his certificate was with the Nigerian Military.
But, since his election as president in 2015, the certificate saga became more intense as political opposition, especially the People's Democratic Party (PDP) have accused the president of not being truthful about his certificate.
The PDP had said the president's claim to be a man of integrity was false, noting that he was hiding the truth on the certificate issue.
"The Buhari Presidency should know that their threats and confrontation cannot take away the fact that their principal's certificate issue requires a personal responsibility and the President cannot wish away this responsibility as he had always done on official matters," PDP spokesman Kola Ologbondinyan said in a statement.
"If Mr President has nothing to hide, he should end the confrontations and show integrity by writing the military authorities to make the certificate public."
Presidential spokesman, Adesina had earlier stated that the Nigerian Military said it had lost Buhari's certificate.
"The military knew where they kept the original certificates of the president. In fact, a former chief of Defence Staff, Gen. Alani Akinrinade, corroborated that the military collected the original certificates of all its officers."
"The military already said they lost the certificates. But does it mean that it did not exist that the president went to school, sat for examinations and passed; attended military courses and War College?," Adesina said.
Shortly after receiving his certificate, president Buhari took to twitter. He wrote: