A tragic year for Indonesia added more deaths and misery on Saturday evening Dec 22 when Tsunami hit some Indonesian villages.
At least 281 people were counted among the dead by Monday morning — with authorities predicting that the number could rise as disaster teams fanned out in villages and coves along the Sunda Strait, about 60 miles from Jakarta.
According to reports, 843 people were injured and many others are still missing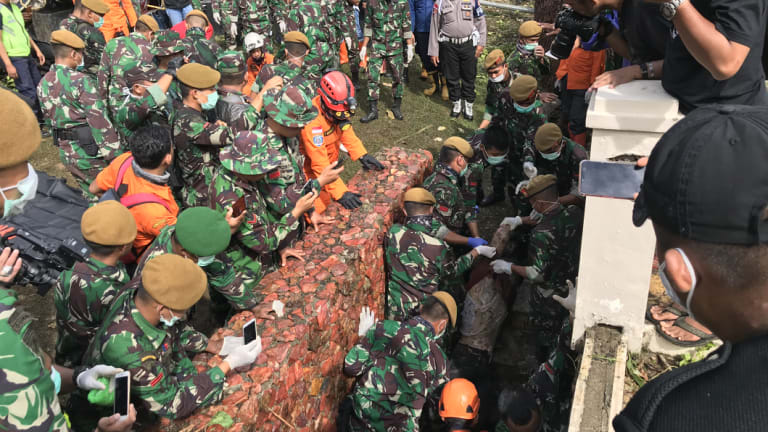 "Data collection is still ongoing. It's likely that the number of victims and damages will rise," said Nugroho, a spokesman at Indonesia's National Disaster Mitigation Agency.
At least 558 houses were destroyed, while nine hotels, 60 restaurants and 350 boats were heavily damaged, an indication of the tsunami's impact on residential and tourist areas.
Buy Amazon health and household stuffs on discount through this link
No foreigners had been reported killed or injured.
Tanjung Lesung is a famous Indonesian beach resort that bills itself as the "gateway to Krakatoa", the volcano that triggered Saturday's tsunami.
It's a place that President Joko Widodo has designated as one of his much-hyped "ten new Balis", part of a big tourism push to get people to travel to other parts of the archipelago.
But on Monday morning at 9am, the only visitors to this resort were the military, rescue workers and a platoon of ambulances.
Thirty-six hours earlier, hundreds of guests, including 300 workers from Indonesia's state-owned electricity company, were watching the band Seventeen play and enjoying the resort's facilities when the tsunami struck.
On another stage, a comedian named Brother Jimmy who dresses like an Islamic preacher was performing his routine.
The awful wave, rushing up to meet the camera, swept everything before it as it ended the lives of dozens of people in an instant.
The only member of Seventeen known to have survived is the singer, Ifan. His wife Dylan Sahara and the rest of the band are either dead or missing, along with their fans.
Ifan's brother Jimmy is dead too, as are many of those resort guests who were watching the show.
Now, at Tanjung Lesung, a twisted metal sign that advertises the name of the resort is all that remains in the spot where the stage once stood.
The wreckage is everywhere.
Speaker cables twisted and broken; speakers thrown dozens of meters, piled up next to a swimming pool that is mostly empty.
More deadly tsunamis could strike the Indonesian coastline in the coming days, authorities warn, as the volcano which triggered the weekend's devastating wave continues to erupt.