Pornhub on Thursday reported a spike in its traffic from Washington D.C since the U.S government shutdown.
The Pornhub Insights team said its statisticians noticed an increase in porn viewership and a shift in the hours during which people are watching porn in Washington D.C.
According to Pornhub analytic team, viewership is up more than 6% in the District area compared to the period before the shutdown.
That data was compiled from Jan. 7 to Jan. 11. Pornhub said it picked those days because they would be the least impacted by the holiday season.
As both Democrats and Republicans fail to come to a compromise over border security, 800,000 American workers have gone without a paycheck. The shutdown, already the longest ever, entered its 27th day Thursday January 17, 2019 with no promising solutions in sight.
Building a wall was one of Trump's major campaign promises as part of efforts to curb illegal migration and crime.
Buy Amazon health and household stuffs on discount through this link
He had boasted during his campaign that the Mexican government would pay for the wall.
However, with the refusal of the Mexican government to fund the wall, the President approached the US legislative, asking the bi-cameral institution to provide $5bn which would be used in funding the wall.
The Congress, however, rejected Trump's proposal.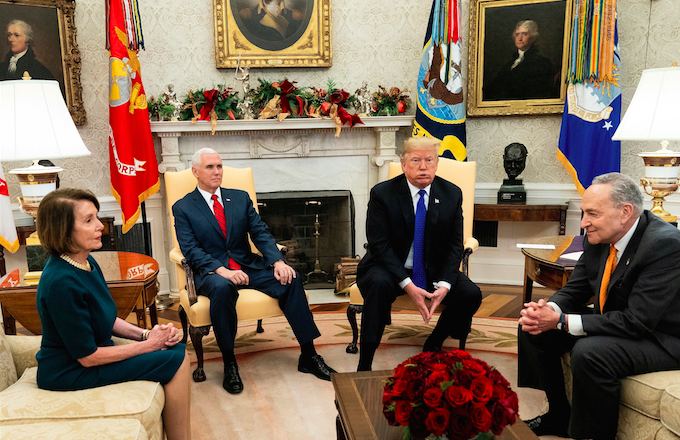 On December 11, Trump held a televised meeting with Speaker-designee, Nancy Pelosi, and Senate Minority Leader, Chuck Schumer, in which he asked them to support $5bn in funding for the border wall.
They refused and Trump said: "I am proud to shut down the government for border security … I will be the one to shut the government down. I'm not going to blame you for it … I will take the mantle. I will be the one to shut it down." Three days later, Politico reported that Trump was willing to sign a bill that delayed a government shutdown into 2019 and the new Congress.
On December 19, the Senate unanimously passed a continuing resolution, the Further Additional Continuing Appropriations Act, 2019, lasting until February 8, 2019.