Crowds that appear like sands of the sea took to the streets of Hong Kong on Sunday June 9, to protest a controversial extradition bill that would enable China to extradite fugitives from the city.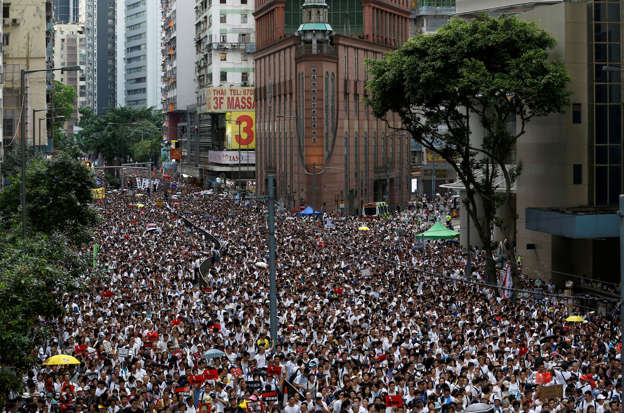 The protesters which the Civil Human Rights Front said numbered more than one million, took to the streets in what has become the largest demonstration since 1997 when Hong Kong was handed back to China.
Opposers of the extradition bill said it will leave anyone on Hong Kong soil vulnerable to being targeted and dealt with by the Chinese authorities for political reasons or unintentional and minor business offenses while ignoring the legal system.
Buy Amazon health and household stuffs on discount through this link
But the government says the bill is meant to plug loopholes in current law by allowing Hong Kong to decide on a case-by-case basis whether or not to send fugitives to territories where it doesn't have formal extradition deals — such as Taiwan, Macau and mainland China.
The controversial bill has generated a lot of outcry in Hong Kong and criticism of the Hong Kong government by international community such as the United States and European Union.
Some protesters were heard shouting "step down," "shelve the evil law," "anti extradition to China," as they called for Carrie Lam, the chief executive of Hong Kong, to step down.
Carrie Lam was sworn in as the 4th chief executive of Hong Kong in July 2017 after winning the three-way election with 777 votes of the 1,194-member Election Committee as the Beijing-favored candidate. She beat the former Financial Secretary John Tsang and retired judge Woo Kwok-hing to become the first female Chief Executive of Hong Kong.
Hong Kong currently has a population of 7.4 million. This means that one out of seven people in Hong Kong took part in the protest.