Himalayan mountain is on the news again. Barely one week after the bodies of 7 climbers who went missing in the Indian Himalayas were recovered, an overcrowded minibus crashed into a gorge in Indian-controlled Kashmir on Monday, killing at least 35 people and injuring another 17.
According to civil administrator, Angrez Singh Rana, the minibus plunged into Kishtwar gorge off Himalayan mountain road when the driver negotiated a curve but rolled down into a 150-meter (500-foot) deep gorge along a rocky stream.
Rana said officials are investigating to know if the tragic accident was a mechanical failure or the driver's negligence.
Those who suffered various injuries were evacuated to hospitals by rescue team, but according to reports, they are all in critical condition. Ten of the injured were airlifted in two helicopters to Jammu city for a special treatment, Rana said.
Buy Amazon health and household stuffs on discount through this link
M.K. Sinha, a senior police officer said the bus hit the rocks and was torn into several pieces. He said the 27-seat bus was overcrowded.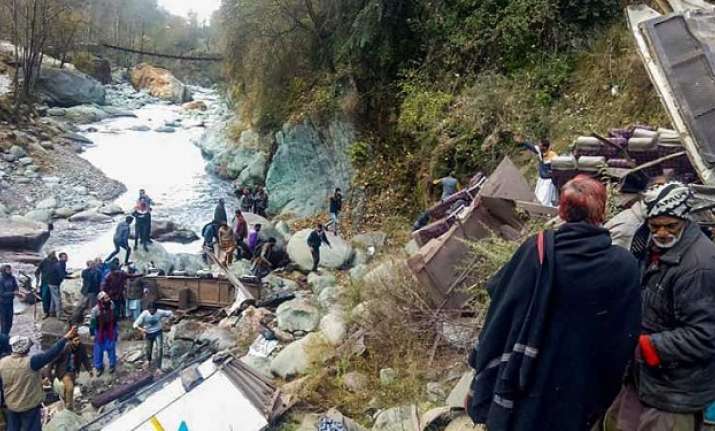 India has the world's deadliest roads, with about 150,000 people killed and 470,000 injured every year, according to multiple reports. Most traffic accidents are blamed on reckless driving, poorly maintained roads and aging vehicles.
On Thursday also, a minibus carrying students to a picnic crashed into a gorge along another Himalayan road in Kashmir, killing at least 11 and injuring seven others, Nypost reports.
Narendra Modi, India's Prime Minister offered condolences on Twitter, saying;
"The accident in Jammu and Kashmir's Kishtwar is heart-wrenching. We mourn all those who lost their lives and express condolences to the bereaved families. May the injured recover at the earliest."
The accident in Jammu and Kashmir's Kishtwar is heart-wrenching. We mourn all those who lost their lives and express condolences to the bereaved families. May the injured recover at the earliest.

— Narendra Modi (@narendramodi) July 1, 2019