A 20-year-old murder investigation has finally come to an end. For more than two decades, the gruesome murder of 18-year-old Miranda Fenner remained unsolved, but on Tuesday July 22, her killer finally admitted guilt.
On November 15, 1998, Miranda Fenner was brutally murdered at a video store in Laurel, Montana. Zachary O'Neill, 39, Tuesday pleaded guilty to the murder. He told investigators how he slashed Fenner's throat and stabbed her body repeatedly inside the video Store in Laurel, Montana.
Fenner's murder case received wide media coverage and has remained one of the highest-profile murder cases in the history of  Yellowstone County.
The murder case was featured on the Discovery Channel's Sensing Murder and the Montel Williams Show.
Yellowstone County Sheriff Mike Linder said that O'Neill first admitted two years ago to the crime while speaking to investigators in an unrelated case in March 2017.
The murderer, O'Neill told investigators how he had gone to the video store to rob them but ended up killing Fenner after he thought she recognized him, an affidavit revealed.
Buy Amazon health and household stuffs on discount through this link
'That's when I pulled out this knife I had,' he said. 'I tried to slit her throat, but it was too jagged. I could hear her gurgling on her own blood'.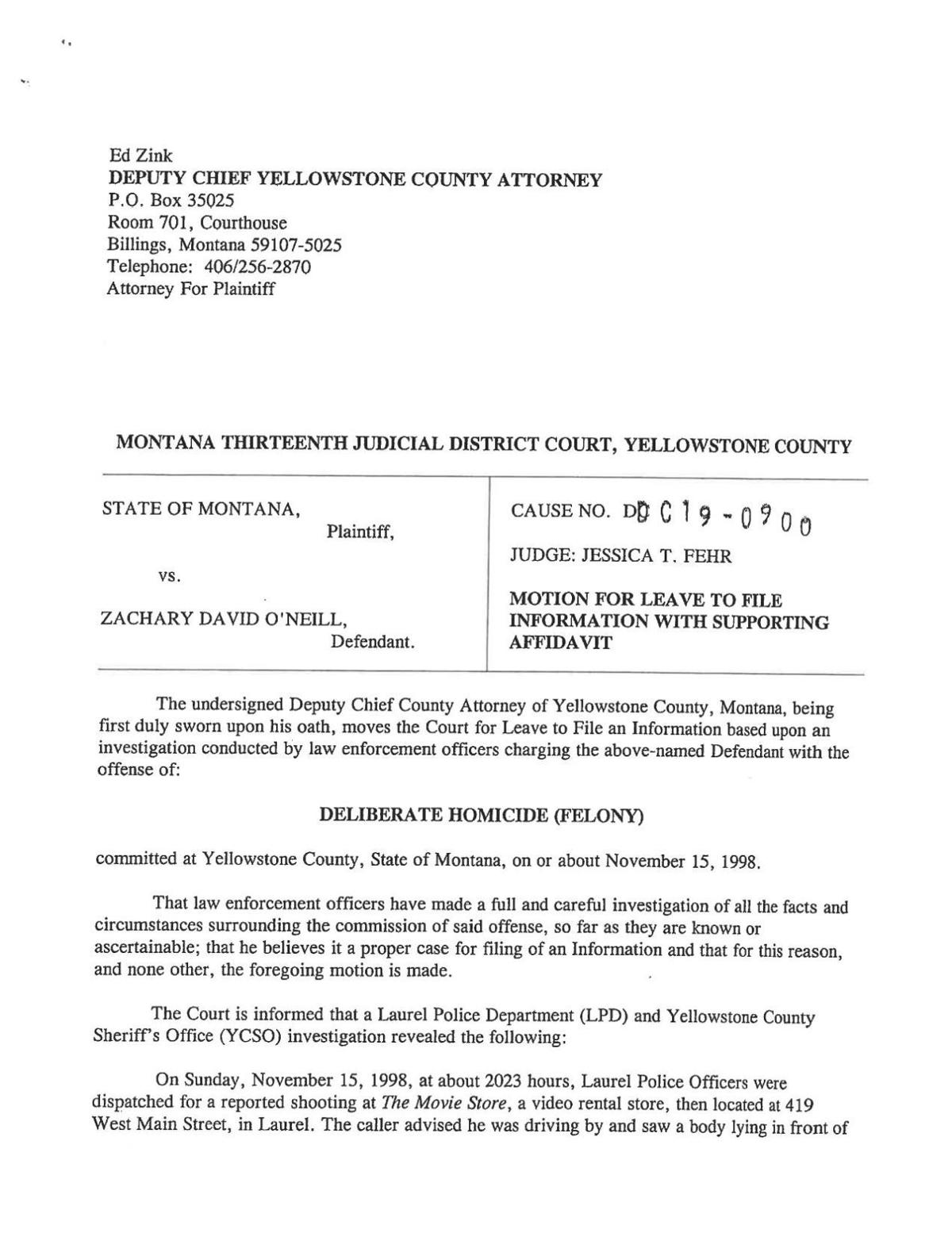 O'Neill also pleaded guilty in the same hearing, to a previous rape case and attempted murder of a newspaper carrier in September 1998.
According to Dailymail, O'Neill, who was 18 at that time, first went to the video store on the evening of November 15 to rent some movies for his mother. He rented four tapes for his mother and one for himself – a pornographic film – all sales of which were sanctioned by Fenner.
O'Neill later told investigators there were 'no problems between himself and Miranda' at the time of the transaction.
But when he returned home, his mother discovered he had rented porn tapes and ordered him to return it to the store.
Very upset by his mother's instruction, O'Neill went back to the store apparently with weapon and 'thought he knew he was going to rob it,' documents show.
He waited for all the customers to leave the store and then decided to attack the teenage girl, Miranda Fenner.
O'Neill stabbed the girl several times to her head, neck and abdomen, in addition to her throat being slashed.
Drenched in her own blood, Fenner managed to drag herself to the front-doorway of the store where she was later found by passers-by.
18-year-old Fenner was rushed to St. Vincent Hospital but sadly, she died hours later.
More than 700 people were reportedly interviewed during the murder case investigation without any success. As the years passed Fenner's murder became a national issue, featuring on such shows such as Dateline and on the Discovery Channel.
Fenner's mother, Sherry Fenner, handed out flyers for years, purchased advertising space and billboards to keep the investigation alive – even offering a $25,000 reward for information leading to the arrest of her daughter's killer, Dailymail reported. Yet there was no success.
After two painful decades of searching for the murder, Fenner's killer was finally revealed on Tuesday July 22, 2019. The killer, O'Neill revealed to the court how everything happened.
He also pleaded guilty within the same hearing, to the rape and attempted murder of a newspaper carrier in September 1998. In that case, too, he slit the throat of the newspaper carrier. O'Neill also said he had tried to kill her to avoid being caught for the rape. Prosecutors unanimously decided to drop the rape charges from the second attack. The victim died in 2013.
In a very emotional statement, Fenner's family expressed relief that the killer of their daughter was finally found. They described the last two decades as a 'nightmare that has caused so much heartache and pain to everyone who knew and loved Miranda.'
'Unfortunately, nothing will ever bring Miranda back, and we can only pray that other families may be spared the grief that this kind of crime inflicts,' the Fenner family said.
O'Neill was brought to Montana from Washington where he has been serving prison sentence for burglary charges and unlawful firearm possession, a term set to expire in 2024.
O'Neill will be sentenced in August for both crimes involving the newspaper girl and Miranda Fenner. He faces life in prison for the Fenner case as a result of a plea deal with prosecutors. He will be held in Montana until then.