Queen Elizabeth II's second son, prince Andrew was named in court documents that were recently unsealed on Friday in the Jeffrey Epstein case.
The court document paint a disturbing portrait of  late Jeffrey Epstein's activities and how others allegedly helped to facilitate the abuse of young girls. A witness statement in the cache alleges that the Duke of York groped a young woman while another posed with his Spitting Image puppet.
Epstein, the disgraced hedge fund manager and convicted sex offender who was arrested in July on charges of sex trafficking, died in a controversial circumstance in a Manhattan prison cell on Saturday morning, August 10.
A deposition given by Johanna Sjoberg—part of a 2015 defamation lawsuit filed by Virginia Roberts Giuffre against Epstein's associate—accuses Queen Elizabeth's son of touching her breast.
"I just remember someone suggesting a photo, and they told us to go get on the couch. And so Andrew and Virginia sat on the couch, and they put the puppet, the puppet on her lap. And so then I sat on Andrew's lap, and I believe on my own volition, and they took the puppet's hands and put it on Virginia's breast, and so Andrew put his on mine," said Sjoberg according to the court document.
When NBC News contacted Buckingham Palace about the allegation, they issued the following statement:
Buy Amazon health and household stuffs on discount through this link
"This relates to proceedings in the United States, to which The Duke of York is not a party. Any suggestion of impropriety with underage minors is categorically untrue."
This was also the same statement that Buckingham Palace gave to Daily Mail when its reporter asked if Prince Andrew would comment on Epstein's death.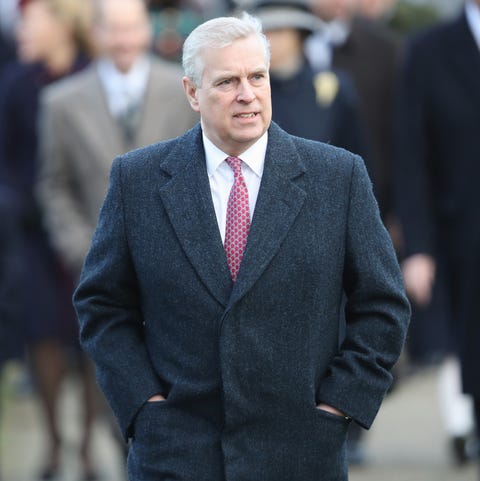 According to The Guardian, this was not the first time Buckingham Palace has denied accusations of sexual misconduct related to Giuffre. A previous statement reads:
"It is emphatically denied that the Duke of York had any form of sexual contact or relationship with [Giuffre]. The allegations made are false and without any foundation."
Prince Andrew was pictured on Sunday to church with his mother Queen Elizabeth. The public appearance, coming shortly after the 'groping' allegation, is being interpreted by some people as a sign of the Queen's support for her second son.
Based on the statement issued by Buckingham Palace, the Queen certainly believes it is a false accusation.
Britain's Prince Andrew, the Duke of York, is one of Queen Elizabeth II's four children.