The video below captured the moment the interim President of Mali, Assimi Goita, was attacked by a knifeman as he was praying at the mosque in celebration of Eid al-Adha.
The incident reportedly happened as an imam was directing worshippers outside the mosque for a ritual animal sacrifice at the Great Mosque in Bamako on Tuesday, July 20.
"The attacker was immediately overpowered by security. Investigations are ongoing," the presidency said in a Twitter post on Tuesday.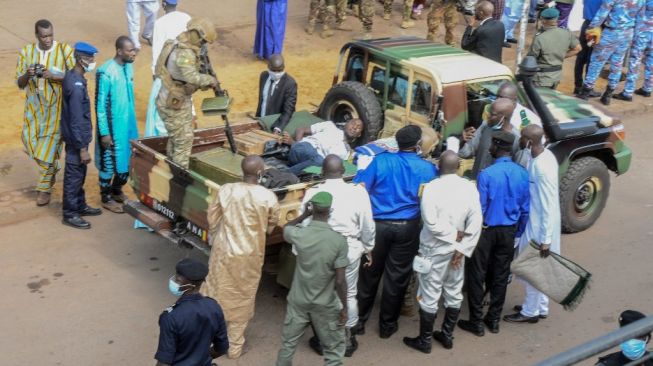 The interim leader was whisked away, according to an AFP news agency journalist, who also said he saw blood at the scene, though it was not clear who had been wounded.
Goita announced later on Tuesday he was doing "very well" following the attack.
"That's part of being a leader, there are always malcontents," he said in a statement broadcast on state television channel ORTM.
Buy Amazon health and household stuffs on discount through this link
"There are people who at any time may want to try things to cause instability," the president said.
Watch the video below
Mali has been unsettled since 2012 when the president of a decade Amadou Toumani Touré was ousted during the March 2012 coup d'état. Subsequent presidents have not lasted long in office since then.
Goita, 38, was sworn into office last month despite facing a diplomatic backlash over his second power grab in nine months.
In August 2020, Colonel Goita had led a military coup that removed embattled President Ibrahim Boubacar Keita after months of anti-government protests over perceived corruption and the failure to tackle a deteriorating security crisis that first emerged in 2012.
In late May, Goita, who was serving as Mali's vice president in a transitional government tasked with leading the country back to civilian rule in February 2022, seized power again after accusing interim President Bah Ndaw and Prime Minister Moctar Ouane of failing to consult him about a cabinet reshuffle.