Popular filmmaker and entrepreneur, Folarin Laosun who is the brain behind the cultural Oluyole Festival, has said he is on a mission to revive and celebrate the rich culture and heritage of Ibadan.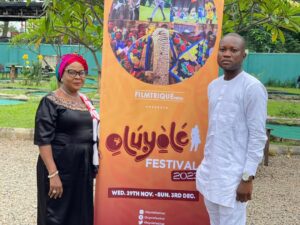 Laosun whose movie, Nimbe is ranked one of the most watched on Netflix shared the inspiration behind the festival, shedding light on its objectives and the challenges encountered.
Determined to project the city onto the cultural stage, he embarked on a journey that led to the inception of the Oluyole Festival.
With the second edition set to hold between November 29 and December 3, this edition, according to him, promises a five-day extravaganza, featuring diverse events to engage the community and celebrate Ibadan's cultural essence.
"The festival kicks off with a visit to the palace of Olubadan, followed by an art exhibition showcasing a mini-documentary on Ibadan's history. The subsequent days feature a seminar on the significance of Ibadan, film screenings, a 48-hour film challenge, football, and golf tournaments. The grand finale boasts a carnival procession and a special performance by a renowned local artist."
Buy Amazon health and household stuffs on discount through this link
He urged the governor of Oyo State, Seyi Makinde to allocate more funds to the Ministry of Culture and Tourism, stressing the potential economic gains for the state.
The post 2nd Edition of Oluyole Festival Holds Nov29- Dec 3 appeared first on National Insight News.