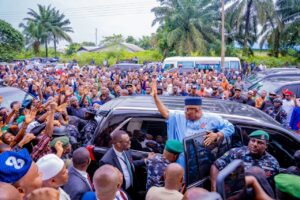 President of the Senate and former Governor of Akwa Ibom State, Godswill Akpabio, on Saturday, stated that he would continue to work for the peace and development of Akwa Ibom State, across party lines.
Akpabio made the promise while speaking at the Thanksgiving Mass held in honour of Minister of Petroleum Resources (Gas), Hon Ekperikpe Ekpo,  at Our Lady of Mercy Chaplaincy, in Abak Local Government Area of Akwa Ibom State.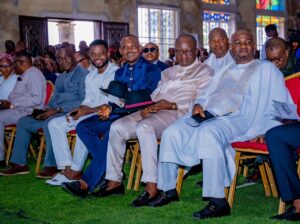 A statement by the Special Assistant on Media to the Senate President, Jackson Udom, quoted Akpabio as saying "as an elderstatesman, my major concern now is to work for the peace and unity of the state and by extension Nigeria.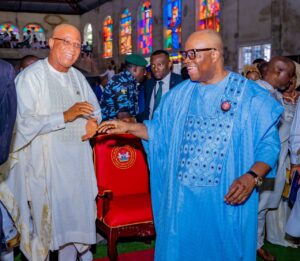 Buy Amazon health and household stuffs on discount through this link
"I am not interested in any kind of war. I am more interested in bringing development to the state. If there should be any competition amongst us, let it be in the overall interest of our people, like competing for development and life  changing projects for our people.
"If the governor is bringing a project to street or road A, as the President of the Senate, I should be seen working on bringing water or electricity to street or road B. That is the kind of competition I want to see and not unnecessary bickering that brings no good to our people," he noted.
Speaking further, Akpabio lauded Hon Ekpo for remembering to thank God after his nomination and swearing-in as Minister of the Federal Republic of Nigeria and member of the Federal Executive Council.
He noted that "we are who and what we are today because God made it possible for it to be so. It is, therefore, imperative that we give thanks always. I thank you for not forgetting the God who made it possible for you to be who you are today.
"Let me also use this opportunity to once again,  thank President Bola Tinubu for supporting an Akwa Ibom son to occupy the number 3 position in the country. It has never happened since the creation of our dear state."
Speaking at the Thanksgiving Mass, the Governor of Akwa Ibom State, Pastor Umo Eno, called on Akwa Ibom people to unite behind any indigene of the state in any position of authority for the benefit of the state.
He also stated his readiness and that of his government to put the state and its people first without any political or religious considerations.
Earlier in his speech, Minister for Petroleum Resources (Gas), Hon Ekpo, disclosed that his sudden introduction to President Bola Tinubu by the President of the Senate, Godswill Akpabio, as the ministerial nominee from the state looked like a joke to him.
According to him, "when I was formally introduced to President Tinubu by my leader and President of the Senate for this ministerial appointment, it looked like a joke to me. Subsequently my name was announced as a nominee and when I appeared  before the Senate, I was told to take a bow. Today, I am a Minister of the Federal Republic."
Speaking further, Ekpo said he was in God's presence to return all thanks to God for using President Tinubu and Senator Akpabio to make his appointment possible.
"I am here today with my family to return thanks to God Almighty for making today possible. I also thank our dear President Bola Ahmed Tinubu and the President of the Senate, Godswill Akpabio, for finding me worthy of this appointment.
Ekpo pledged his readiness to do his best for the state, its citizens and Nigeria as a whole, to ensure that Nigeria reaps from its enormous gas resources for the country's development.
The post Akpabio Reiterates Commitment To Continued Peace In Akwa Ibom State, Nigeria appeared first on National Insight News.