#FeatureByKOYN
To convert your Bitcoin to Naira in Nigeria, you need to find a reliable app for selling BTC. It's essential to compare various crypto apps based on their fees, withdrawal options, and charges before making a decision.
Let's explore some of the differences, such as fees and transaction timings, and find out which crypto trading app in Nigeria is the best for selling Bitcoin at the highest rate.
To get the best deals while selling Bitcoin in Nigeria, it's important to use a reputable exchange. Compare current Bitcoin prices across different exchanges before making your choice.
Several factors, including supply and demand dynamics in the cryptocurrency market, influence the price of cryptocurrencies like Bitcoin. This includes the price that buyers and sellers are willing to accept and how user-friendly the platform is.
High transaction costs pose a challenge for many Bitcoin traders in Nigeria. Compare conversion prices between different cryptocurrency trading platforms and find the best Bitcoin rates in Nigeria. Consider processing, receiving, and withdrawal fees, as these costs can discourage traders from participating in the market when selling Bitcoin in Nigeria.
Buy Amazon health and household stuffs on discount through this link
Finding crypto apps with the best BTC price in Nigeria can be hard. As cryptocurrency adoption grows in Africa, numerous cryptocurrency exchanges have made it easier for customers to sell their BTC in Nigeria. It's crucial to follow these essential recommendations to identify the best app in Nigeria for selling Bitcoin and other cryptocurrencies, as not all cryptocurrency trading platforms are trustworthy.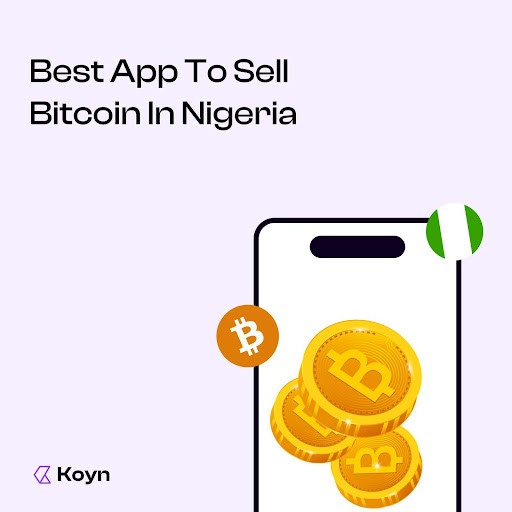 How to choose the best App to sell Bitcoin in Nigeria
Bitcoin Availability: Ensure the platform always has Bitcoin available for exchange. Research in advance to confirm that the virtual currencies you wish to exchange are supported.
Fees: Compare transaction charges, including withdrawal and deposit fees. Opt for a crypto trading app that is free or charges minimal fees, like KOYN.
Limitations: Check for restrictions on deposits and withdrawals. Choose a platform with minimal limitations to have more flexibility in your transactions.
Security: Prioritise platforms that guarantee the security of your financial transactions. Use apps designed specifically for secure cryptocurrency exchanges.
Customer Support: 24/7 customer support is crucial. Choose a platform with multiple communication channels like live chat, email, and social media for assistance.
KOYN is the best app for selling Bitcoins and other cryptocurrencies in Nigeria. It offers automated, user-friendly, and fast transactions, ensuring the best Bitcoin rates in Nigeria.
Why KOYN is the best app to sell Bitcoin in Nigeria
KOYN is an automatic cryptocurrency exchange platform allowing instant conversion of cryptocurrency into fiat currency. Using KOYN's over-the-counter method, users can securely convert and withdraw their cryptocurrency into cash within minutes, without relying on peer-to-peer trading or third-party agents. Download Koyn Immediately
KOYN is unrestricted and does not charge processing, receiving, or withdrawal fees. It offers unlimited deposit and withdrawal amounts, ensuring stress-free transactions for users. The app's simplicity and positive reviews make it the best choice for selling Bitcoin in Nigeria at the highest rates.
Here's why it's the Best App to sell Bitcoin in Nigeria:
1. Crypto Rate Calculator:
Calculate the worth of your BTC in Naira based on the current exchange rate using KOYN's Rate Calculator.
2. User-Friendly Interface:
Our platform is designed with you in mind. Whether you're new to cryptocurrencies or an experienced trader, you'll find the interface intuitive and easy to navigate. This ensures a hassle-free experience for selling Bitcoin.
3. Top-Notch Security:
Security is a paramount concern in the world of cryptocurrencies. We take security seriously and have robust measures in place to protect your assets. Your Bitcoin holdings are safe and secure on this platform.
4. Competitive Rates:
We offer competitive exchange rates for Bitcoin in Nigeria. You'll get a fair market price for your Bitcoins when you choose to sell on the platform.
5. Prompt Transactions:
Time is of the essence when it comes to cryptocurrency trading. We ensure that your Bitcoin transactions are processed swiftly, allowing you to access your funds when you need them.
6. Excellent Customer Support:
Koyn's dedicated customer support team is always ready to assist you with any queries or issues you may have. Our commitment to customer service sets us apart in the industry.
Whenever you want to sell Bitcoin in Nigeria, use KOYN to enjoy these unique benefits.
How to Sell Bitcoin on Koyn
Selling Bitcoin on Koyn is a straightforward process:
Create an Account: Quickly download Koyn and create an account
Verify Your Identity: Complete the necessary identity verification process to ensure compliance with regulations.
Deposit Bitcoin: Transfer your Bitcoin to your Koyn wallet.
Wait for Confirmation: Wait for 3 confirmations.
Withdraw Your Funds: Finally, you can withdraw your funds to your preferred bank account.
FAQS
Is KOYN a reliable platform for selling Bitcoin in Nigeria?
Answer: Yes, KOYN is a reputable and reliable platform for selling Bitcoin in Nigeria. It offers automated transactions, top-notch security measures, competitive exchange rates, and a user-friendly interface, making it a preferred choice for many sellers
What sets KOYN apart from other cryptocurrency trading platforms in Nigeria?
Answer: KOYN stands out due to its unrestricted nature, absence of processing fees, unlimited deposit and withdrawal amounts, prompt transactions, and commitment to excellent customer support. These features contribute to a stress-free and user-centric trading experience.
What fees does KOYN charge for selling Bitcoin?
Answer: KOYN does not charge processing, receiving, or withdrawal fees for Bitcoin transactions. This fee structure ensures that users can trade without worrying about additional costs, providing a transparent and cost-effective trading experience.
Conclusion
Koyn is the go-to app for selling Bitcoin in Nigeria. Its user-friendly interface, top-notch security, competitive rates, and excellent customer support make it the ideal choice for both beginners and experienced traders.
So, if you're looking to sell your Bitcoins in Nigeria, look no further than Koyn, the best app for Bitcoin trading in the country. Start your journey with us today and experience the future of cryptocurrency trading.
—
#FeatureByKOYN