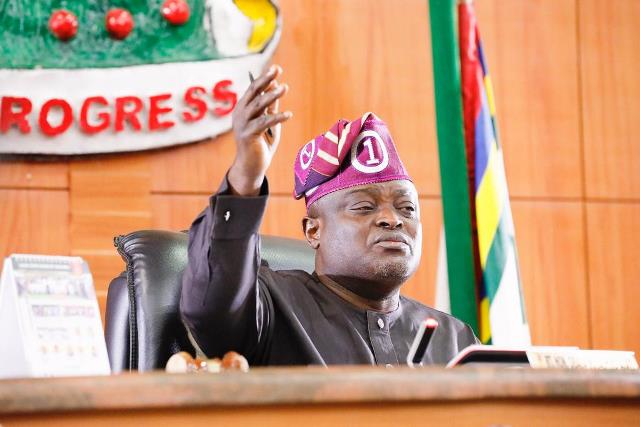 A letter submitted to the Lagos House of Assembly by the state governor, Babajide Sanwo-Olu, has caused ripples in the legislative house.
According to reports, the letter requested the screening and confirmation of new nominees for cabinet positions.
However, concerns arose as the governor's submission notably omitted the identities of five special adviser nominees, prompting an outcry from lawmakers over deviation from the standard nomination process.
During the assembly session presided over by Speaker Mudashiru Obasa, the Clerk of the House read out the governor's request, which identified only one nominee, Mr. Abiodun Ogunleye, for the commissioner position.
The absence of names for the remaining special adviser roles raised eyebrows among lawmakers, triggering immediate reactions and calls for transparency.
Buy Amazon health and household stuffs on discount through this link
"it is necessary for us to know who and who would become part of the cabinet," Speaker Obasa said.
Deputy Majority Leader Hon. Adedamola Richard Kasunmu expressed dismay, noting that the failure to disclose all nominees contradicted established nomination protocols, stirring concerns over procedural irregularities.
This unprecedented move drew the attention of various assembly members, including Hon. Ladi Ajomale and Hon. Owolabi Ajani, who emphasized the necessity of adhering to standard procedures.
"In this case, it is only the commissioner-nominee that had a name attached to it, and this is surprising. Maybe we should also pass information to the governor that the names should be specified," Ajomale said.
They highlighted previous nominations that included comprehensive nominee details, facilitating smooth screening processes by the ad-hoc committee.
The omission of identities in the governor's submission prompted unanimous agreement within the assembly to address this irregularity.
Speaker Obasa underscored the importance of clarity and transparency in the nomination process, stressing the need to promptly request the missing identities to ensure an informed and fair confirmation procedure.
The article was originally published on Politics Nigeria.