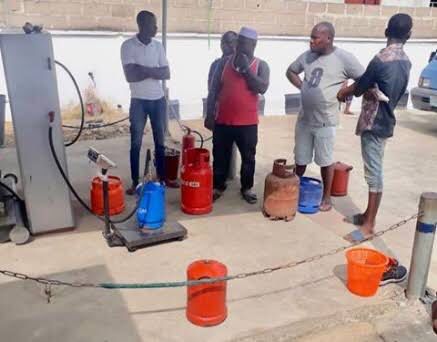 Recent insights from gas retailers highlight a concerning trend: the demand for liquefied petroleum gas (LPG), commonly known as cooking gas, has sharply declined despite government efforts to augment supply and encourage local consumption.
Punch reports that the reasons behind this downturn in demand are rooted in the financial constraints consumers face.
Gas retailers in various neighbourhoods revealed that the demand for cooking gas has dwindled noticeably due to the financial strain experienced by consumers, attributed primarily to low income and diminished purchasing power.
One retailer from Isolo, Akinleye, voiced concerns about the overarching impact of inflation, stating that prices of essential goods and services have surged beyond the average citizen's reach.
Consequently, consumers now purchase smaller quantities of cooking gas or resort to alternative cooking methods like kerosene or charcoal.
Buy Amazon health and household stuffs on discount through this link
The prevailing market prices for a 12.5kg cylinder ranged between N11,000 and N12,000, depending on the locality, showcasing the strain on consumer budgets.
President of the Nigerian Association of Petroleum and Gas Marketers, Dapo Olatunbosun, acknowledged the government's recent efforts, including consistent local supplies facilitated by the Nigerian Liquefied Natural Gas Limited, which have stabilized prices.
However, he expressed concern over the waning demand for cooking gas, attributing it to consumers' economic challenges.
While detailing the current situation, Olatunbosun highlighted that although prices have stabilized at around N16 million per 20 metric tons, the demand remains subdued due to ongoing economic constraints.
He indicated a modest expectation of increased demand in December but suggested it wouldn't be significantly higher than previous years.
The recent fluctuations in prices and supply chains have been a concern, leading to interventions and discussions between the government and regulatory bodies.
The regulatory bodies, prompted by the outcry from gas retailers, have been summoned to address the price surge and ensure market stability.
"The price is stable for now. it could have gone up if not for our cry. Every depot is wet now. Supply is better. Price is stable at N16m per 20 metric tons- it could have been worse.
"But demand is falling amidst the low income and poor purchasing power of people. Hope demand may go up slightly in December but would not be significant when compared with previous years," he said.
Olatunbosun reiterated the importance of government intervention to stabilize prices and bolster supplies. He emphasized that if cooking gas were more affordable, it would be accessible to a broader consumer base, thus mitigating the current supply-demand gap.
Despite these challenges, hopes remain high for a price reduction as the government intervenes.
Olatunbosun assured that concerted efforts would prevent projected price increases, providing relief to consumers in the coming weeks.
The article was originally published on Politics Nigeria.