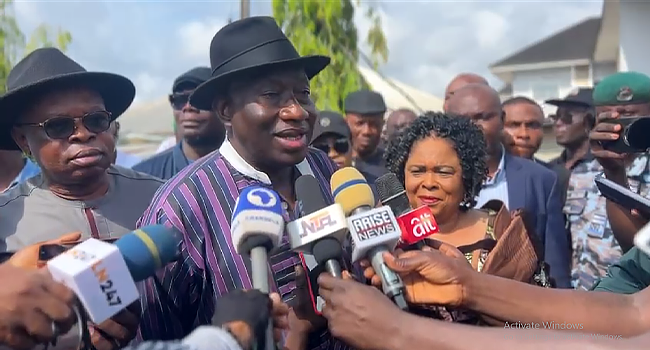 Former President Goodluck Jonathan has reacted to the outcome of Saturday's governorship election in Bayelsa State.
Politics Nigeria reports that the Independent National Electoral Commission (INEC) had declared Governor Duoye Diri of the PDP winner of the keenly contested race between APC's Timipre Sylva.
Reacting to the outcome of the poll on Friday, Jonathan hailed Governor Diri's efforts at tackling insecurity, saying the Bayelsa leader's re-election means the state would be a lot safer. 
Jonathan, who is a former governor of the oil-rich state, stated this when he visited Diri in Yenagoa, the Bayelsa State capital, almost one week after the governor stormed to victory in a keenly contested poll.
While congratulating Diri for winning the exercise, the former president said if Douye had lost, the gains made in curbing insecurity would have been lost.
Buy Amazon health and household stuffs on discount through this link
"We don't want to go into unnecessary crisis in the state. Results have been declared and we believe the election was conducted. We believe the governor won the election and we plead that people should accept it and work with the governor. Let all of us support him so that the state will move ahead," he said.
"There should be nothing that will push the state backward. We should think about the development of the state starting from the issue of peace and security in the state which within this last period, three years plus, there are significant improvements in terms of cultism and kidnapping and so on and so forth.
"I was saying before this election that if Diri loses this election, I would have relocated my mother to Abuja."
Recounting how his cousin was kidnapped and killed, Jonathan expressed optimism that with Diri returning as the governor of the state, the situation would soon be a thing of the past.
"My cousin was kidnapped two times on one of those occasions, one of my cousins, Solo, was killed because they threw him into the river and he didn't know how to swim," he added.
"So, we've passed through hell in this state and we've seen a little light at the end of the tunnel. So, people should calm down, and allow Diri to focus on governance so that he will be able to propel this state forward so that we will benefit as citizens of the state."
The article was originally published on Politics Nigeria.