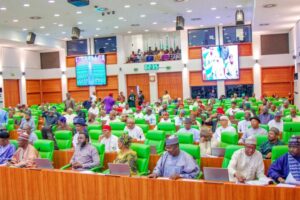 The heads of the country's security agencies are presently in the house of representatives' green chamber.
The chiefs, including Hassan Abubakar, the chief of air staff, Christopher Musa, the chief of defence staff, Taoreed Lagbaja, the chief of army staff, Emmanuel Ogalla, and Kayode Egbetokun, the inspector general of police, were invited by the lawmakers to brief them on the state of security in the nation.
Lagbaja is the first among the chiefs to speak.
Last week, the legislators turned back representatives of the service chiefs during plenary.
Read Also: A'Court dismisses SDP suit seeking to sack Adamawa governor, Fintiri
Buy Amazon health and household stuffs on discount through this link
The House of Representatives had expressed fury over the absence of the service chiefs and Egbetokun at an interactive session scheduled which was scheduled to be held last Thursday during plenary.
The security heads instead sent representatives.
The week prior, the House had scheduled a sectoral debate with the security chiefs as it planned to do with other sectors of the country.
After Benjamin Kalu, the Deputy Speaker, raised a constitutional point of order, the House rejected the security heads' representation and rescheduled the meeting.
The House then moved the engagement to Tuesday, which is today, insisting that the military chiefs be present for the debate.
The post IGP, Service Chiefs appear before Reps, to discuss Nigeria's security situation appeared first on Latest Nigeria News | Top Stories from Ripples Nigeria.