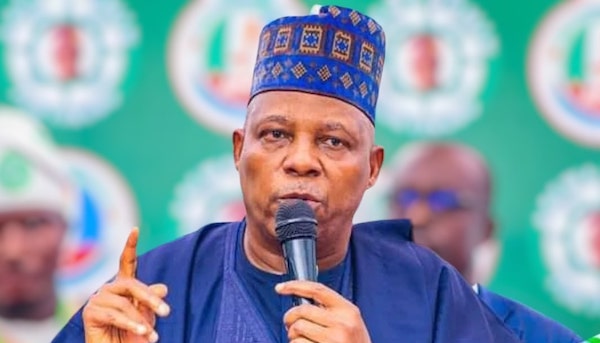 Vice President Kashim Shettima has blamed the hardship faced by Nigerians in the North-East region of the country to the activities of terrorists.
Shettima, who lamented that terrorism had plagued the region for far too long, expressed optimism that the scourge would be defeated.
Shettima, who was represented by Senate President, Godswill Akpabio, at the launch of a book titled, 'Terrorism and Counter-Terrorism in North-East Nigeria: Emerging Perspectives and the Imperative of Airpower', in Abuja, said peace could be restored to the region if all stakeholders resolved to work together.
"The North-East region has been grappling with the scourge of terrorism for far too long. The brutal acts committed by extremist groups have inflicted immense suffering upon the innocent people of the region. But amidst this darkness, there is hope," Shettima said.
"Hope that through knowledge, understanding, and the collective efforts of all stakeholders, we can overcome these challenges and restore peace and stability to the region."
Buy Amazon health and household stuffs on discount through this link
The Chief of Air Staff, Air Marshal Hassan Abubakar, submitted that the deployment of air power had helped to degrade the terrorists.
He noted that the deployment had enabled the military to conduct surveillance and gather intelligence, as well attack the terrorists.
"Today, we are glad to highlight the significance of airpower in the fight against terrorism. Airpower, with its unique capabilities and reach, has proven to be a game-changer in countering the asymmetric threats posed by terrorist organisations.
"The ability to swiftly project force, conduct surveillance, gather intelligence, and provide close air support has been instrumental in degrading the capabilities of these insurgents and terrorists."
He, however, admitted that the fight against terrorism was not one-dimensional, adding that it required a comprehensive approach that addressed the root causes of extremism, promoted social cohesion and fostered economic development.
Abubakar added that the insights and perspectives shared in the book could serve as a guiding light for policymakers and military strategists in formulating holistic solutions that went beyond the realm of military operations.
The article was originally published on Politics Nigeria.