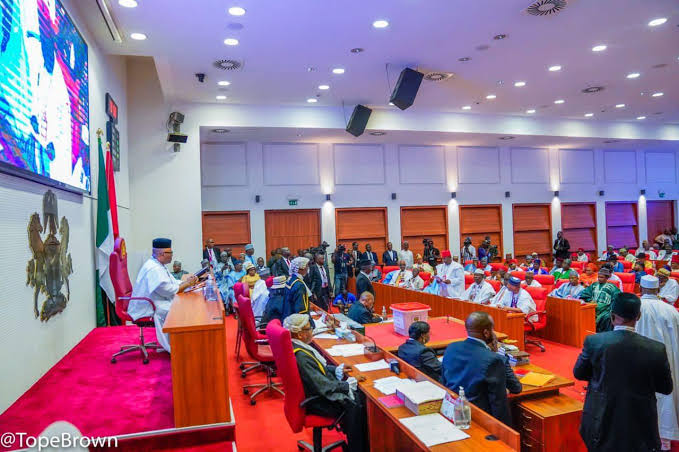 Chaos erupted in the Senate chamber during Tuesday's plenary as Senate President Godswill Akpabio announced the appointment of Abba Moro (PDP, Benue South) as minority leader and Osita Ngwu (PDP, Enugu West) as minority whip.
The appointments led to outrage among members of the minority caucus, particularly the Labour Party (LP), who questioned Akpabio's authority to make such decisions without their consent.
Both Moro and Ngwu, being members of the main opposition Peoples Democratic Party (PDP), replaced Simon Mwadkwon (PDP, Plateau North) and Darlington Nwokocha (LP, Abia Central), respectively. Mwadkwon and Nwokocha were recently sacked from their positions by the court.
LP Senator Tony Nwoye (Anambra North) opposed Akpabio's decision, questioning his right to unilaterally appoint minority leaders. "Are we your slaves? Why will the Senate president be picking leaders for us?" Nwoye said, directing his frustration towards the presiding officer.
Akpabio explained that the appointments were based on the signatures of senators who had agreed to the decision. He further clarified that he was only acting in accordance with the information provided to him and could not make any changes without proper documentation.
Buy Amazon health and household stuffs on discount through this link
"Minority put your house in order first," Akpabio urged the disgruntled senators. "The senate president can only work with what is before me. You have Senator Abaribe and Aliero, their names are not here."
Akpabio also expressed sympathy for the minority parties in the Senate.
The article was originally published on Politics Nigeria.