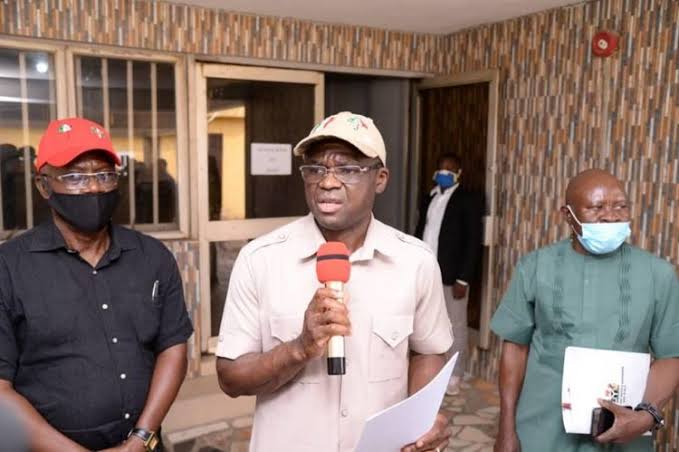 Edo State Deputy Governor Philip Shaibu has renewed his hint at contesting the 2024 governorship election, stating that the state needs practical governance, not experimental governance.
Shaibu made the remarks while addressing newsmen in Abuja on Sunday. He said that Edo people are yearning for practical governance and that the state cannot afford to experiment again with someone who does not grasp the intricacies of its politics and the aspirations of its citizens.
"Edo people need practical governance," he asserted. "We cannot experiment again with someone who doesn't grasp the intricacies of governing a state as complex as ours."
Shaibu pointed out that citizens worldwide are increasingly demanding that governments avoid pursuing unnecessary projects. "Everything we do must be carefully evaluated," he remarked.
"You cannot understand people's needs if you don't live among them," he continued. "Therefore, competence and experience should be our guiding principles as we approach the 2024 election."
Buy Amazon health and household stuffs on discount through this link
He asked, "Who is competent? Who is more experienced? Who can hit the ground running from day one?"
He cautioned against repeating past mistakes: "Are we going to experiment with a new person again? Will this person spend the first four years learning on the job and then another four years embezzling funds and establishing businesses under the guise of consolidating on first-term gains?"
"Or do we need a governor who can take charge from the very beginning?" he asked rhetorically.
Shaibu, who has expressed interest in the Edo governorship race, emphasised the importance of collaboration between the state and the federal government for any administration to succeed.
"My experience has shown me that collaboration is essential for a governor's success," he asserted.
"I understand the state's debt profile and where I believe I can secure funding to develop infrastructure," he added. "So, I won't be coming to learn on the job; I'll be ready to hit the ground running."
The deputy governor attributed the system's shortcomings in Edo to an overabundance of seminars, workshops, and programs that have never been implemented.
"The problem we face is an overabundance of seminars, workshops, and programs, leaving no time to implement their outcomes," he explained.
Shaibu addressed the issue of rotational governorship among the state's three senatorial districts, stating that there has never been a formal agreement or convention.
"There has never been any convention, either political or traditional, establishing such a zoning arrangement," he asserted.
However, he declared himself an advocate for fairness and equity, adding that "anyone advocating for equity must come with clean hands."
Shaibu pointed to the unequal distribution of governorship opportunities across the senatorial districts: "While other senatorial districts have had more than one turn, Edo North has had only one."
"We have had four governors from the South, two from Central, and only one from North," he elaborated.
"Just as my aspiration to be deputy governor was not mine but an opportunity I embraced, so too is the ambition to be governor. I am simply making myself available," he added.
The article was originally published on Politics Nigeria.