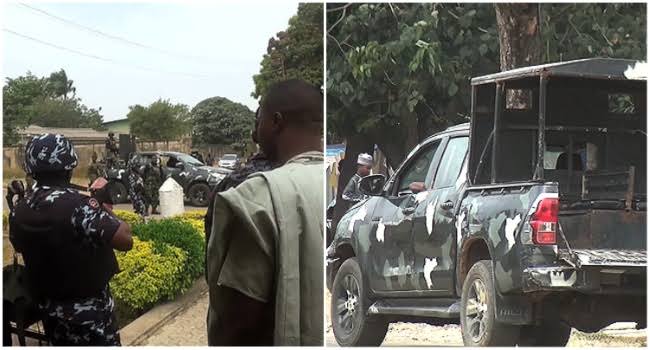 A group of Nigerian Air Force (NAF) officers stormed the Kaduna Zonal Command of the Economic and Financial Crimes Commission (EFCC) in a commando-style operation.
The incident, which occurred on Friday, was disclosed in a statement by Dele Oyewale, the Head, Media and publicity of the EFCC.
The statement has it that the EFCC had earlier arrested five suspected internet fraudsters at a residential Inn and Disney Chicken Eatery in Barnawa, Kaduna, following credible intelligence about their alleged criminal activities. However, upon witnessing the arrest, six NAF personnel attempted to forcibly release the suspects, leading to their detention for breaching security protocols.
"The intruders are four Air Force personnel: Lawal Abdullahi, Chukwuma Chidi Christian, Alfa Suleiman and Emmanuel Ekwozor, and two students of Nigerian Air Force Institute of Technology, AFIT: Chidera Anuba and Joseph Tokula," the statement said.
However, despite ongoing inter-agency communication and negotiations between the EFCC and NAF leadership to resolve the issue, a group of NAF officers disregarded the ongoing dialogue and stormed the EFCC's Kaduna Command in an attempt to forcefully release their detained colleagues.
Buy Amazon health and household stuffs on discount through this link
In the face of this provocation, the EFCC said it demonstrated remarkable restraint and continued to engage with the NAF leadership. Ultimately, the detained NAF officers were released to the NAF Provost after being duly profiled.
"The EFCC wishes to assure the public that it will continue to carry out its statutory mandate of tackling all cases of economic and financial crimes, without let or hindrance," the statement concluded.
The article was originally published on Politics Nigeria.