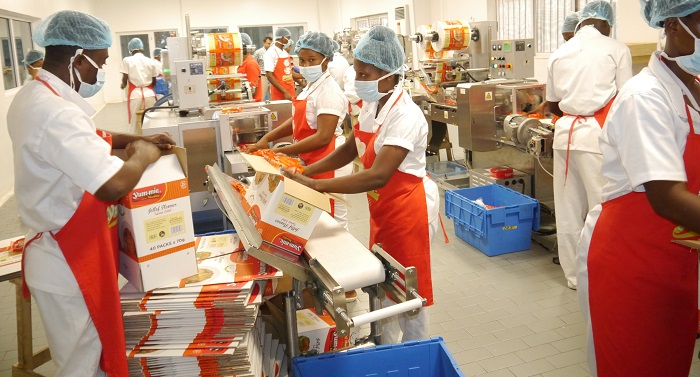 The Nigerian food and beverage manufacturing sector has been dealt a significant blow as manufacturers face a stark reality: a steep decline in production by 20 per cent due to a sharp fall in consumer demand.
Vanguard reports that this downturn is a direct result of the persistent surge in food inflation, which escalated to 31.52 per cent in October, exacerbating financial strains on consumers.
The substantial decrease in demand has led to a challenging situation for manufacturers, with their inventory of unsold finished goods surging by 34.03 per cent year-on-year to N78.82 billion in the nine months ending September 30, 2023.
The inflationary pressures, coupled with factors such as high energy costs, insecurity in farming communities, and global conflicts like the Russia-Ukraine war, have triggered these unprecedented market dynamics.
Regulating the brunt of the economic turmoil, consumers are altering their consumption patterns, reducing the quantity of food and beverages they purchase.
Buy Amazon health and household stuffs on discount through this link
Dealers in food and beverage products, expressing their concerns, report a noticeable decline in patronage and consumer reluctance due to continual price increments by manufacturers.
Mrs Chinenye Orizu, CEO of Chy Ventures, lamented the soaring prices, highlighting a significant drop in patronage as consumers opt for unbranded alternatives or reduce their planned purchases.
She highlighted that out of every ten customers, only a few purchase without hesitation, while others either negotiate prices or curtail their intended purchases.
"From our end as wholesalers that buy directly from the companies, we now ration the money we have to be able to buy little of different products from different brands and stock in order to satisfy the customers' demand," she noted.
Echoing similar sentiments, Mr. Innocent Nwokorie, CEO of Godswill Restoration Global Venture, noted the adverse effects of constant price fluctuations, resulting in diminished sales and eroded capital.
"The constant changes in price is too bad now that the capital we were using before has been badly eroded. It is affecting us everyday.
"For our customers, when we tell them the price of the products they demanded for, sometimes, they will leave without buying what they came for because of the high cost. Sometimes, we just sit here and sleep," he lamented.
The Central Bank of Nigeria (CBN) report revealed a staggering 20 percentage point decline in capacity utilization for food and beverage manufacturers, falling to 49 per cent in the first half of 2023 from 61 per cent in the corresponding period in 2022.
Heavyweights in the industry, such as Dangote Sugar Refinery Plc, BUA Foods Plc, and Okomu Oil Palm Plc, recorded substantial increases in the stockpile of unsold goods, reflecting the overall trend in the sector.
Segun Ajayi-Kadir, Director General of the Manufacturers Association of Nigeria (MAN), attributed this distressing trend to the weakened purchasing power of consumers resulting from inflationary pressures, currency instability, and fuel subsidy removal.
Muda Yusuf, Director General of the Center for the Promotion of Public Enterprise (CCPE), concurred, emphasizing the need to address the exchange rate and energy costs to alleviate the burden on manufacturing companies.
He stressed that consumer priorities are shifting towards essentials due to financial constraints.
"There is the need to fix the macro-economic environment and drive down the exchange rate issue because the inflationary impact of it is very high. If we are also able to bring down the energy cost, hopefully, you will see a reduction in their cost.
"Again, if we are able to see refining of domestic petroleum products, that will also bring down the energy cost. At the micro level, the companies also need to review their business model and strategy and see how they can adjust to the current realities of the market," he added.
The article was originally published on Politics Nigeria.