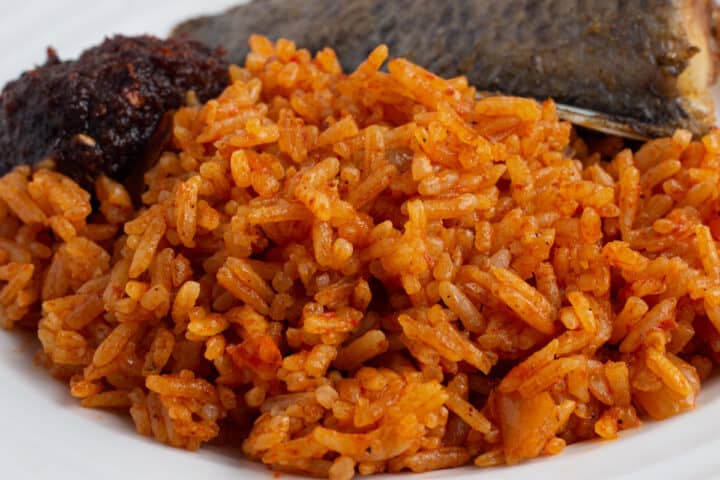 The cost of preparing a pot of jollof rice, a Nigerian family favourite, has surged significantly over the last seven years, with prices escalating by 220.7 per cent, according to the latest 'Mountain Climbing' report by SBM Intelligence.
The report has shed light on Nigerian households grappling with soaring food prices, impacting the accessibility and affordability of essential meals.
The SBM Intelligence report revealed that preparing a pot of jollof rice for a family of five surged to N13,106 in September 2023 from N4,087 in July 2016. This hike translates to families spending 43.7 per cent of the monthly minimum wage to prepare this dish.
The recent spike in food prices is attributed to various factors, including the devaluation of the naira, removal of petrol subsidies, and broader inflationary trends, with significant impacts on staple foods beyond jollof rice.
"This spike has strained Nigerian households, particularly those earning minimum wage," the report said.
Buy Amazon health and household stuffs on discount through this link
The index tracked rice costs, groundnut oil, chicken or turkey, beef, seasoning, pepper, tomatoes, salt, and onions. However, the data excludes December due to seasonal variations causing price hikes.
SBM Intelligence highlighted that this surge extends beyond jollof rice to staple foods like bread, beans, tea, beverages, and tubers, making essential food items increasingly unaffordable for consumers.
The report indicated that the high cost of essential items like rice and increased prices for fish and meat substitutes have led to difficulties for many Nigerian families, impacting their ability to afford nutritious meals.
In tandem with the surging food prices, inflation in Nigeria surged to an 18-year high of 27.33 per cent in October, worsening the cost-of-living crisis. The removal of petrol subsidies and the currency devaluation further contributed to these challenges.
The World Bank projected adverse impacts on poor households, estimating income losses and foreseeing an increase in poverty levels if no compensatory intervention exists.
The report also highlighted that protests over high food prices have erupted in various parts of the country, underscoring the urgent need for effective policy responses to stabilize the food market and ensure affordability and accessibility for all Nigerians.
The article was originally published on Politics Nigeria.