#FeatureByPeak
Peak Milk, the flagship brand from the stable of FrieslandCampina WAMCO Nigeria PLC, announces the launch of Peak Milky Pap, a nutritious and convenient form of Pap.
Popularly known as Ogi, Akamu, and Koko across different parts of Nigeria, millions of Nigerians have consumed pap for decades in its wet traditional form, typically prepared with hot water into a gruel. However, while pap is rich in carbohydrates, it is lacking in protein and some key micronutrients essential for growth and development. In line with its nourishing nature, Peak Milk undertook the mission to evolve this cherished breakfast staple by enriching it with the goodness of milk and making it more convenient for consumption.
Peak Milky Pap is a delicious 3-in-1 pap mix made from a wholesome blend of Multigrains, with the inclusion of milk not only to enhance the taste but also to provide essential nutrients like protein. The product is a fusion of tradition and innovation as consumers' demand for convenience continues to rise.
Mrs Omotayo Olaobaju, Senior Brand Manager, Peak expressed her excitement about the launch: " Everyone loves the convenience that comes with evolution. Just as life evolves, Pap has evolved to a more nutritious form with Peak Milky Pap.
Having recognised the popularity of pap as a traditional breakfast cereal across different tribes and the importance of nutrition, we launched Peak Milky Pap to cater for the convenience and dietary needs of the modern consumer. Compared to traditional local pap, Peak Milky Pap was made with carefully selected ingredients to provide consumers with at least 25% of the recommended daily allowance for key micronutrients and comes in convenient packaging that can be stored for a longer period.
Buy Amazon health and household stuffs on discount through this link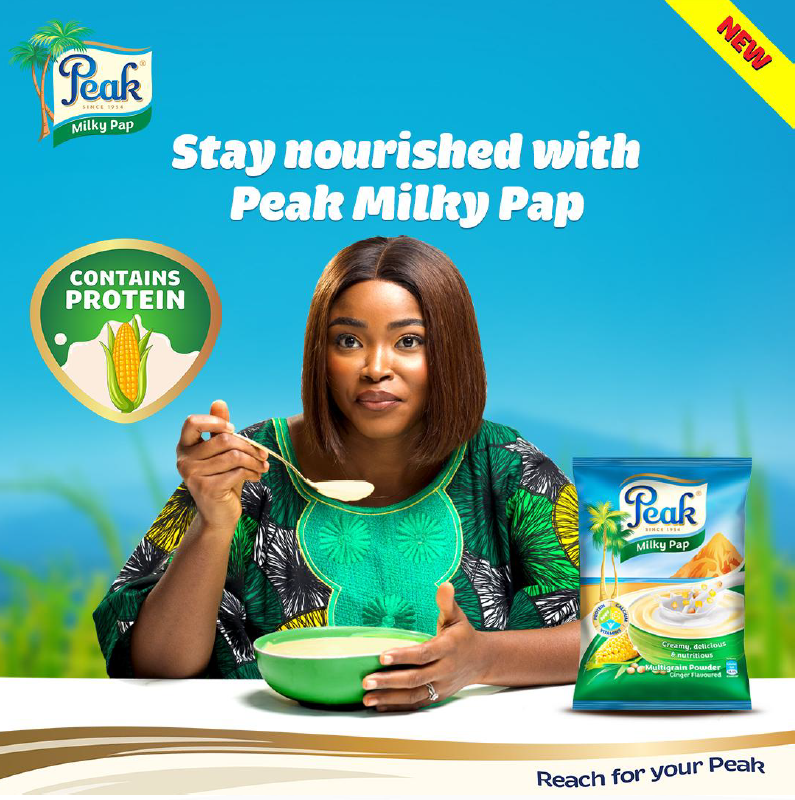 Peak Milky Pap contains protein which is a vital nutrient for muscle growth, repair, and overall health, making it an ideal choice for consumers seeking a protein-rich breakfast option.
To celebrate the launch of Peak Milky Pap, Peak Milk has introduced the 'Life Evolves, So Has Pap' campaign, highlighting the brand's commitment to preserving tradition while embracing innovation. This campaign encourages consumers to embrace the modern twist to pap offering them a nutritious and convenient breakfast solution that aligns with their evolving lifestyles.
This campaign will feature interesting and rewarding events including product sampling activations, influencer engagement and user-generated content.
The introduction of Peak Milky Pap is a testament to Peak Milk's dedication to enhancing the well-being of its consumers by providing them with quality nutrition. This innovative product not only celebrates Nigeria's rich culinary heritage but also raises the bar for a tasty breakfast experience.
Peak Milky Pap is now available at stores and supermarkets across Nigeria. Join us in celebrating the evolution of Pap to Peak Milky Pap. Now, Pap breakfast can be more satisfying with nourishment in every scoop.
About Peak Milk
Peak Milk is Nigeria's premier dairy brand, dedicated to providing high-quality and nutritious dairy products to millions of households across the country. As a brand relied upon by generations, Peak Milk continues to uphold its promise of nourishing families and promoting healthy lifestyles. Through its diverse initiatives and campaigns, Peak Milk strives to create a positive impact on the well-being of Nigerian communities.
—
#FeatureByPeak