She finds it insensitive that the rapper led the world to think that he was going to stop smoking.
Big Brother Naija star Bamike Adenibuyan, fondly known as Bam Bam, has offered some advice to rap legend Snoop Dogg after he revealed what he really meant by "quitting smoke."
On Monday, November 20, 2023, it was noticed that the rapper had deleted his initial post, and in it's place was a new video where he stated that he was 'going smokeless' with a stove of sorts.
After realising that he didn't stop smoking for real, Bam Bam took to his comment section to let him know that he holds influence as a popular celebrity and needs to be more careful; as great influence comes great responsibilities.
Her comment read, "So many addicts were motivated to quit because of the announcement; imagine the heartbreak. Be gentle with the hearts and minds of those who have influence; you're accountable."

She was among those who did not appreciate Snoop Dogg's joke after he deleted his initial posts where he announced that he was quitting. Apparently, he was never going to give up his trademark of smoking marijuana; it was all just a big marketing ploy to sell a product.
It all began on November 17, 2023, when the rapper posted a picture on his Instagram page announcing that he was giving up smoke. He said, "After much consideration and conversation with my family, I have decided to give up smoke. Please respect my privacy at this time."
Buy Amazon health and household stuffs on discount through this link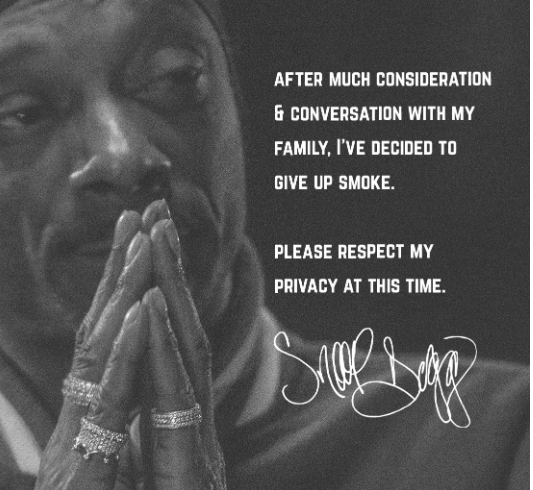 As it turned out, it was a huge 'Gotcha' moment, and the whole world was misled by his choice of words. While many applauded the icon for his master marketing skills, others did not appreciate it very much because of the sensitivity of the topic. His playfulness may have had unintended consequences for those who took his announcement to heart.